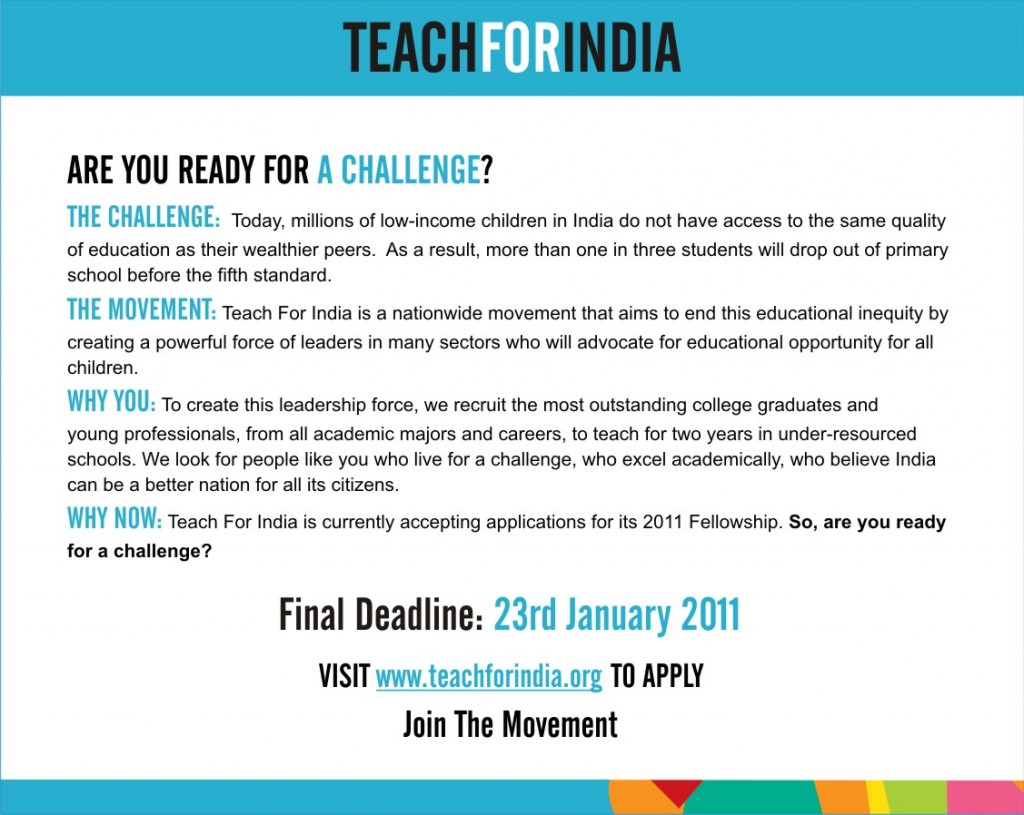 Teach For India (TFI) is a nationwide movement working towards eliminating educational inequity in India, by placing the country's most outstanding college graduates and young professionals, of all academic majors and careers, in low-income schools to teach for two years. To this end, TFI offers a 2-year, full-time, paid Fellowship.
Teach For India aims to develop leadership skills in our Fellows, so that no matter where they go after two years, they are ready to be the next generation of leaders. To this effect, Teach For India intensively trains the Fellows on innovative teaching and overall leadership skills. Post the 2 year Fellowship, Fellows will be supported to join organizations across sectors. Teach For India has been recognized by institutions such as Harvard Business School, SP Jain Institute of Management, ISB Hyderabad, and corporates like Mckinsey, Ernst and Young as a valuable experience for building leaders.
Our Fellows come from diverse backgrounds. Sweta Gupta worked with IBM as a Senior Consultant & Business Advisor, and studied management at IIM  Calcutta. Tarun Cherukuri was working at Hindustan Unilever, before he decided to accept the challenge of being a Teach for India Fellow. Tarun graduated from BITS Pilani.
The current group of close to 220 Teach for India Fellows come from some of the top colleges and corporations in the world, including IIM (Calcutta), IIT, Harvard, Princeton, St. Xavier's (Bombay), St. Stephen's, SRCC (Delhi), NLS (Bangalore), Mckinsey, Goldman Sachs, Deloitte, Google, Citibank, Ernst and Young, Accenture, JP Morgan, ICICI Bank, Godrej Industries, Mahindra & Mahindra, TCS, and others. Our first and second batch of Fellows are already teaching in low-income schools in Mumbai and Pune where they are placed for 2 years as full-time class teachers.  Every day, our Fellows touch the lives of 6500 kids in about 150 classrooms, across 65 schools.
You could be next. Join the movement.
Please visit www.teachforindia.org for more information, and to apply. Final Deadline for Applications-23rd Jan 2011.