Name:  Shrenik Gandhi
Company: White Rivers Digital
Designation: Business Head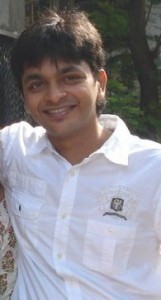 Questions:
1. Tell us something about your company – White Rivers Digital
White Rivers Digital is a Mobile, Social Media, Web & Creative consultancy. The company believes that brands need smart, quick-paced, nifty and creatively crafted solutions to effectively reach out to the target audience online, to stand out from the clutter and to grow.
2. Why did you decide to get into the digital industry given how competition-intensive it is?
To answer this question in a word: Passion.
Passion for Digital is what got me onto this space. This field gives us an opportunity to learn, unlearn & re-learn. Also, it is dynamic enough to keep people like me, who get bored with the same job regularly, stick to it. Speaking about competition, its too big a pie for the existing market to eat. India, as a country, is yet to see the real potential of the digital market & hence there is still a lot of space for existing players to grow as well as new players to flourish.
We, at White Rivers Digital believe that the real competition for any company is what it was yesterday! Always try to get better than what you were & then the real world competition shall not be as relevant.
3. What prompted you to start your own business as opposed to sticking to a job?
Starting up the business was always in mind. Picture this: The first time you wanted to learn swimming, everyone would have taken a round of the pool you were about to jump into, with zillions of questions in your mind, regarding fear, depth etc. You cannot understand or face the same till the time you jump into it. Even in real life, it is the same case. You have to stop constantly thinking around it & jump into it as soon as you have a sustainable plan. Simple. Be an entrepreneur, Face it!
4. What does entrepreneurship mean to you? Define it.
Entrepreneurship is dreaming about an idea, living it, sticking by it, standing up against the world & yet enjoy every second of it.
"Its about taking chances now, to tell stories on it when old!"
5. Who is the entrepreneur you look up to?
Kishore Biyani.
For his simplicity, believing in the concept of Indianness & for being a first generation entrepreneur.
6. What are the perks and pitfalls of owning/running a business?
Perks: When you start building your team for your dream, it is indeed a euphoric moment to see people working with you towards your dream & you get motivated to work all the more harder.
Pitfalls can be compromise on short term monetary gains, stabilised salary, time you cannot spend with your close ones, as you are working on ideas to get your business better & time you cant give yourself.
You may have to spend long hours on weekend working, but at the end of the day if it brings a smile on your face, it is definitely worth it.
7. What are the tips you'll share with budding entrepreneurs/people who want to start their own business?
Believe in a better tomorrow, always. No matter what the world says, if you believe in an idea, live by it. Also, I have seen a lot of people waiting for that right idea to strike. You shouldn't. There are millions of businesses already existing in the world. Pick up one & make it better. Simple.