Acclaimed Irish playwright George Bernard Shaw once exclaimed that "Power does not corrupt men; fools, however, if they get into a position of power, corrupt power."
This seems to be the case with Indian politics. There are too many fools in multiple positions of power, and their foolhardy has corrupted not just power, but everything in its wake. India has always lacked in inspiring, well-informed and genuinely concerned leaders, ones who could display the potential to rise above shallow games of political opportunism and media-attention; but it has in excess, groups of corrupt and power-hungry politicians.
The 'scam-period', when various instances of money fraud like the CWG scam, the 2G scam and the Adarsh scam came to fore, is what comes to my mind now. What were these instances if not abuse of power and breeding of corruption? For a country that was reeling under the burden of mis-governance, these scams proved to be the final blow. People were angry and their discontentment was showing. Measures had to be taken to right the wrong, but who could possibly unify this country of ONE BILLION?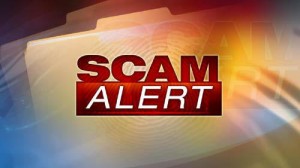 Anna Hazare, a war soldier and a past recipient of various environmental awards, acclaimed for having repaired his broken village stood up to be the national crusader against everything wrong with this country – corruption, corrupt politicians, poor governance and so on. With credible and respectable people like Kiran Bedi, Arvind Kejriwal forming the core of the Anna Team and a plausible  workforce comprising of lawyers and IAS officials, Anna's Army was raring to go.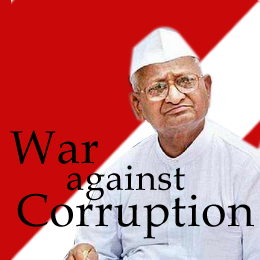 Anna Hazare, the Leader
Senior citizens gave their approval to Anna; housewives left their homes and kitchens to be a part of Anna Mania. The blue collar worker finally felt there was a leader that spoke his language and he willingly gave the cause his precious time and valued money. And the youth? Who can forget those pictures where the youth thronged the roads and public maidans and shouted anti-corruption slogans? They took over blogs/twitter/facebook proclaiming their support for Anna, discussing the Lokpal with as much fervour as they would discuss their college fest.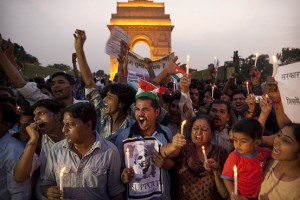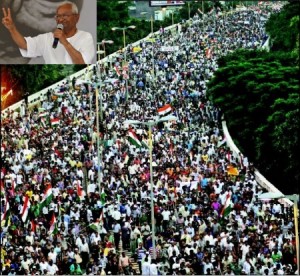 The crowds turn out in LARGE numbers to support Anna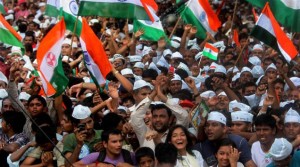 The Youth unite in the fight against corruption
But all this was a year ago. Where does the movement stand now? Where are the protestors now? Has Team Anna lost its sheen? Honestly, do we, the youth, care about the cat and mouse game that Anna and the government seem to be indulging in lately?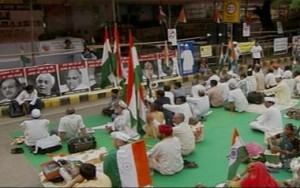 At Anna's fast campaign at Jantar Mantar (in Jul 2012) where have the crowds gone?
Che Guevara, the great Marxist revolutionary, is counted as one of the most exceptional youth leaders the world has seen. For Che was a man of action, and not just words. While Team Anna has tried, exceptionally hard, to lambast the government for its inaction against corruption, to abuse the media for being critical of its actions and basically, to disregard anyone who is not a part of their movement, sadly, all they have done is speak. Although their initial fiery speeches of a citizen revolt were counted as inspiring and revolutionary, the country is in a dire need of doers, as speakers we have many. While Team Anna has busied itself in enemy counting, the country has moved on, and so have the criminals.
A revolt or a political movement when staged, must be backed by proper understanding and maturity. While the Anna Army have been squabbling within itself and with the government, the country is sitting back and watching the tamasha unfold. The layman, who once was willing to fight the world with Anna for a better tomorrow, is feeling lost yet again. The hope that was so craftily created, now lays lifeless. It now seems as a lost battle.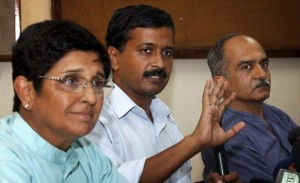 Rift in Anna's Army? Kiran Bedi, Arvind Kejriwal and Prashant Bhushan in a media interaction at New Delhi
What is the future for Anna and his team? Will the movement meet its rightful end? There as much questions as there are complications.
But the ONE question that must be answered is: Will YOU, the youth, get together and re-ignite the fire and fight for a better India??
Do tell.