– By Deep Chhabria
After a fast run along the sea-facing promenade at Carter road in the ethnic suburb of Bandra, the first smell that tantalizes me is that of authentic chicken being smeared with fire at the junction where Carter road turns into the youth centric Khao galli. In this bustling and vibrant lane, rests Carter's Blue – home to finger licking Lebanese and Mughlai food and the always crowded 'adda' of college students.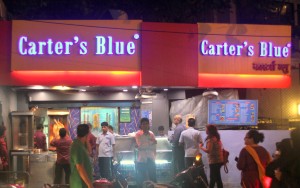 This quaint eatery was started in 2006 by Mr. Mehboob Khan and has a menu that comprises of more than 80 items with the traditional chicken shawarma being the crowd's favourite. Being located in a prime and strategic spot, dishing out delicious food at very reasonable prices are the reasons behind this joints success – no wonder then that it is crowded for the entire time that it is open (12pm – 1am).
The menu offers ample choices and includes Lebanese delicacies like hummus, falafel, pita bread, etc. as well as Mughlai Kebabs like Chicken tikka, Reshmi Tikka, Sheekh kebabs, etc. The vegetarians needn't feel left out as the Paneer and Mushroom Shawarmas and the vegetarian Kebabs are equally famous. The new entrant in the menu is the big sized chicken baida roti and trust me it is a glutton's paradise for only INR 150.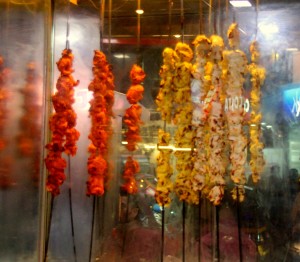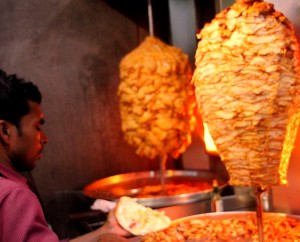 "Quantity and quality are our pillars and we make sure none of them ever breaks," said the owner (Mr. Khan) to me when my friend and I went to gorge on the delish food there. The fact that if offers delicious food for a reasonable price is what make it a hit among the students fraternity. For example, a very filling chicken shawarma with ample of chicken, fries, pita bread, garlic sauce, pickle, cheese (if ordered) is priced at a meagre Rs.110. Now that's an offer one can't refuse!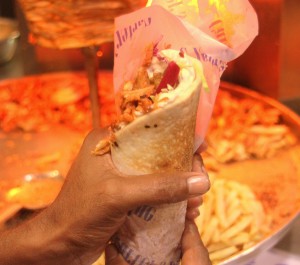 The feast I gorged on! 😀
Add to that credential list an extremely quick service and you have a winner! The joint offers take-away options and if you wish you can occupy the plastic chairs they place near the eatery; however, all in all this is a stand-and-savour kind of place.
Khana rating: 8.5 / 10