Amul – "The Taste of India," has once again got it right with its Bhaag Milkha Bhaag campaign. While many of us wouldn't know that one of the biggest ingredients of Milkha's success was Milk, Amul has capitalized on this very well by associating with the movie in a unique way. BestMediaInfo has captured the essence of the collaboration in this article.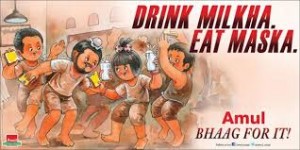 Speaking on the collaboration, Nitin Karkare, COO, Mumbai, Draftfcb Ulka said, "Association with the Bhaag Milkha Bhaag film seemed like a perfect next step for the brand after London Olympics, The Amazing Spiderman and Man of Steel. The objective is to reach our TG with the core message of milk as the original energy drink, but at the same time retaining the freshness, topicality and excitement."
"This movie has a great fit with brand Amul, it stands for striving and winning to become the leader and we want the youth to follow this, to persevere with dedication, awakening the winner in us," said GCMMF's managing director RS Sodhi. He added, "Milk, the world's original energy drink, will help provide nourishment and energy to reach their goals."
Milkha Singh himself said, "This film will help inspire the youth to win in the Olympics, especially in athletics."
Watch the Amul Milk TVC here.