Best: Toyota Camry – "Leadership is an art of Persuasion, not Domination"
The price of the The All New Camry being 23.5 lakhs (ex-showroom), it definitely has a niche market. The well executed 'leadership' campaign carries an aspirational factor, as it subtly states that it is designed only for leaders. Also, they have represented the right idol for the brand – Abraham Lincoln. This helps elevates the positioning of the brand.
The media planning is perfect and adds to the brand recall. All in all, this is one well executed print ad.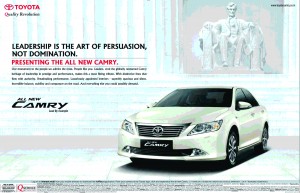 Bad: Nature's Essence Age Defense Ad
This one is a full page ad, yet looks very shabby. The use of three different fonts adds to the shabby look of the ad. Use of scientific terms seems to be invalid in this case as the potential consumer wouldn't really understand such terms. Therefore, this is certainly not the right strategy for the creative. Instead, focusing on the glamour quotient alone would have worked wonders.
I believe when you spend on a full page ad, you must make sure you have the right thing to show. Nature's Essence fails to impress on all counts. Hope the product isn't as bad the ad though!