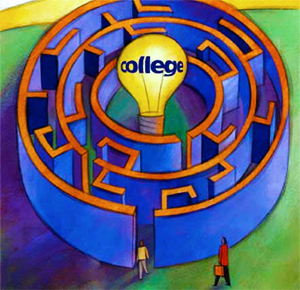 You join Graduation College after you're done with HSC; that is you seek admission in Graduation College in the 'developing phase' of your life. It's a phase wherein, just like young kids, you learn whatever is taught to you. However, the difference this time round is that you don't simply learn whatever you see or hear but you rather 'follow' whatever 'attracts you' or all that is 'in vogue'. In short, you tend to develop a herd mentality and at the same time you discover the rebel in you who craves to carve his/her own path.
Your personality stands to get influenced by your immediate surroundings, the people you interact with, etc. In the initial days of college, you are like the chicken that has just broken free from its shell; a newbie who is eager to learn new things and walk with the world. There definitely are many other things that influence your personality, but you spend most of your time in college and here is where your life perspectives are shaped. It is in the college campus that you 'hang out' with your friends, be it after lectures or even by bunking lectures! Thus, the college campus has a lot to do with how you behave and it wouldn't be wrong to say that the college culture does inevitably become your culture.
The above logic holds true in the case of BMM students as well. Most of the times you'll find only a bunch of students hanging out and about in college after everyone has gone home and those will invariably be BMM students. Either they will be busy making presentations, or practicing for a play, or xeroxing notes for an up-coming exam. On a lighter note, it wouldn't be wrong to say that a typical BMM student spends half her/his time either taking notes or designing PowerPoint presentations! And both these activities require one to stay back in college for long hours. Thedemands of the course in terms of the time you have to invest in what you do, is what makes choosing the right college extremely essential. Your campus is going to be your home for three years, so it is up to you to ensure you find yourself a very good home!
Also, the extra-curricular activities in your college play a major part in moulding your personality. The exposure that these extra-curricular activities promise is something that every BMM-ite is sure to benefit from. These will help you know your strengths, will push your potential to the limits and get you to be out-going and wise-in-the-ways-of-the-world in general. Therefore, if a college doesn't participate in or organise many activities then it is advisable to stay clear of such a college. It is also important that the college you select organises its own BMM festival. It is in this fest that you will learn the nitty-gritty's of organising a large scale event, of getting sponsors on board, of handling logistics and so on. Hence, presence of and active participation in your college fest is vital.
Debates, group discussions, interactions with the visiting faculty, cultural events, sports events, plays, youth festivals: all of these play a major role in shaping and nurturing your personality and thought process. In the end, it would suffice to say that the college you choose plays a pivotal role in your BMM experience. So, study hard and aim for the best.