After the holy festivities of Eid and savouring street food the Islamic way, it was turn for some loud and vibrant Punjabi spices to complete the celebrations. Craving for some Indian fried fish and clay oven meat, my feet dragged me to Linking Road – the most happening and popular hangout in Bandra. Right opposite our sandwich hub on the main road stands the ever crowded 'Jai Jawan'. Operating from a small eatery with only take away or eating in the car options this place has been the ultimate joint for lip-smacking sea food and Chicken since 1975. With only six items on the menu this place is packed with foodie's who would be ready to spend half their fortunes for a piece of the fried fish. Working for very limited hours in the evening from 6.30 pm to 12 am, this place has a footfall of more than 400 people every day.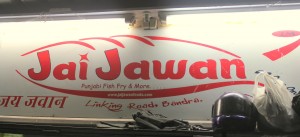 The fried prawns, seekh kebab, chicken liver, chicken tikka and the chicken tandoori have a demand that is surely more than its supply. Reaching this place with pure enthusiasm of feasting on some amazing fried fish my hopes were shattered on discovering that the fish was SOLD OUT and that was three hours before their closing time! The fish and prawn rates are decided according to the weight and quantity of the same but a plate of deep fried fish would cost you INR 190-200 approximately.
The next best economical option was the half  tandoori chicken priced at INR 120. One leg piece and one breast portion of the intricately marinated chicken is cooked like the typical Indian barbeque. The chicken was tender and very well prepared, what made it different from the tandoori chicken in other places was the precision with which it was crafted i.e., the spices were in exact proportion. This filling was converted into a meal by simply adding a few fresh pav's to it. The mint and coriander chutney along with cut onions were the cherry on the cake. A decent rate card with limited options but sufficient quantity is the reason for it being a very famous hangout amongst students and meat lovers.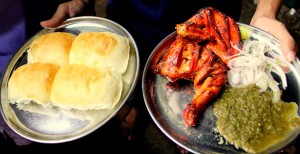 The wait to get your meal might be a little long because of the sheer number of people present but is surely worth the wait. The owner was too busy to speak to me but the quality food he served spoke enough of his love for serving and traditional Punjabi delicacies. However, this authentic place is pretty technologically advanced, you can check out their website www.jaijawanfoods.com . Well after doing absolute justice to my taste buds this week, I shall take leave until my hungry stomach drives me to some whacky hangout next week. Till then there is only one thing I can say after a worthy dinner – 'Balle Balle'.
Khaana rating-7.5 on 10