China's gold medal streak at the Olympics instigated me to go hunting for some top quality Chinese food this week. Being in South Mumbai the only place I could think of that would satiate my taste buds and my wallet was Raju Chinese.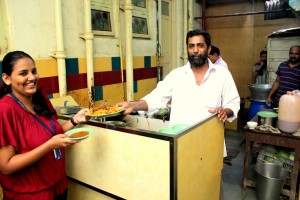 Raju serves up a treat!
For a decade now Raju Chinese has been one of the most valuable assets of H.R. College. Situated in the backyard of the college in the Butterfly Café, this mini china town is the centre of activities throughout the day. A menu of just twenty items, feeds around 650 students every day from 9 am- 6 pm. The all vegetarian menu includes delicacies like Triple Schezwan Rice, Paneer Lemon Rice, Hakka Noodles, etc.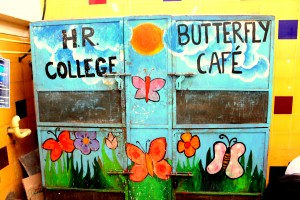 Raju's kitchen is home to really popular Chinese appetizers like Veg Manchurian, Mushroom Manchurian and Fried Wantons, but the dish that gives all the above a run for their money is Veg Crispy, the perfect combination of authenticity and the chef's personal Indian touch. This schezwan creation that I gorged on before writing this article was made up of deeply fried mushrooms, cabbages and carrot rolls, baby corn and cottage cheese, all artistically mixed with schezwan sauce, spring onions and garlic. The first full fork in my mouth made me forget that I was enjoying this meal in the middle of a crowded canteen.HEAVEN!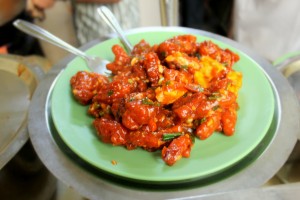 Yum! Yum! Yum!
Students prefer the rice and gravy or the rice and noodles combo, as one plate of either of these combinations is more than enough to satiate your hunger and please your taste buds. The additional garlic sauce and the fried noodles that go along as side dishes make the meal wholesome. The manchow soup is also a quick seller too. The new entrant in the menu – steamed wantons – seem to steam up amongst the calorie conscious for they are well prepared and tasty.
A major part of the young clientele age also like the take away option as the silver foil packing keeps the food fresh for long and retains its flavour. The major unique selling point of this famous joint is that everything is priced between INR 70-INR 80. No wonder this hangout is the hub of Chinese food crazy youngsters!
Raju's spectacular food cooking tactics and the never dying love from the students has helped him expand his business and he now runs a branch at New Marine Lines.
"Chinese khaane ka, aur zyaada baat nahi karne ka" said Raju while massaging his trademark bushy beard when I asked him about his trade secrets! Haha..
Khaana rating- 9 on 10.