From India's best performance at the Olympics so far, to the deaths of a veteran politician and an acclaimed cinematographer, here are the top 10 news this week.
1. Yogeshwar Dutt wins bronze at London Olympics
29 year old, Sonipat-born Dutt won the Bronze medal in the 60 kg freestyle wrestling after defeating North Korea's Jong Myong Ri by 3-1. He fought three repechage rounds to win this prestigious medal. With this win, Dutt became the third Indian to win an Olympic award in wrestling after KD Jhadav (Helsinki Olympics, 1958) and Sushil Kumar (Beijing Olympics,2008). The Haryana government has announced a prize of Rs one crore for Dutt for his medal winning performance. Full story here.
2. Sushil Kumar wins silver at the Olympics; takes medal tally to six
Making it the best ever Olympics for India in terms of number of medals, Sushil Kumar won the silver medal in the final of Men's 66 kg Freestyle Wrestling, taking the medal tally for the country to 6. He had reached the finals by defeating Akhzurek Tanatrov of Kazakhstan 3-1 in the semi finals but lost to Japan's Tatsuhiro Yonemitsu in the finals by 3-1 and had to settle for silver. A Rs. two crore cash award was announced by the Delhi government whereas the Haryana government announced a prize of Rs. 1.5 crore for Sushil. With this win, Sushil became the first Indian to win two successive Olympic medals in an individual category. He had previously won a bronze in the same category at Beijing Olympics in 2008. Full story here.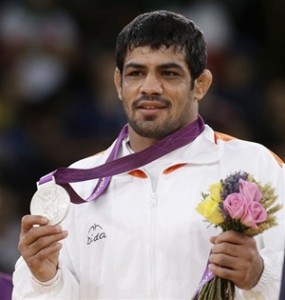 3. Union Minister Vilasrao Deshmukh dies of multiple organ failure
After battling liver cancer for six months, Union Minister for Science and Technology and two-time CM of Maharashtra Vilasrao Deshmukh passed away at a private hospital in Chennai after suffering a cardiac arrest and multiple organ failure. The 67 year old politician was supposed to undergo a liver transplant which could not be done due to medical complications. As a mark of respect, the Indian Flag was flown at half-mast on Tuesday and Thursday at all government offices in Delhi. The funeral took place at his hometown Latur, which was attended by many Bollywood celebrities and politicians, including Prime Minister Manmohan Singh and Sonia Gandhi. Full story here.
4. Renowned columnist and TV host, Fareed Zakaria accused of plagiarism; charges dropped
The editor-at-large of Time magazine and CNN host Fareed Zakaria was suspended from his job after he confessed to the plagiarism charges. The 48 year old Indian- American and Padma Bhushan awardee had been accused of lifting a paragraph from writer Jill Lepore's essay on gun control which was published in April issue of The New York Times and using it for his Time's column titled "The Case for Gun Control". He acknowledged it as his mistake and apologized "unreservedly" to Lepore and his editors and readers. Time and CNN accepted his apology, and each temporarily suspended his column and his show respectively. However, after an internal review of his works, his suspension was revoked by both the media houses which are owned by Time Warner. Full story here and here.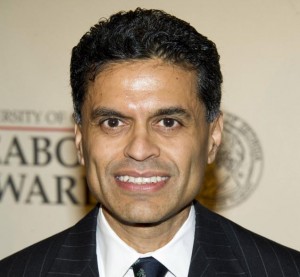 5. Mitt Romney picks Paul Ryan as his running mate
Republican candidate for the Presidential elections, Mitt Romney, chose the seven-term congressman Paul Ryan as his Vice-Presidential running mate. The 42 year old Wisconsin born politician has served as the chairman of the House Budget Committee. The Republican supporters believe that with his political and economic background, Ryan can lend credence to Romney's claim that the Republican candidate can help the nation save its struggling economy. In his maiden speech, Ryan criticized Obama's economic policies. Full story here.
6. Mobile radiation limit to be reduced from September 1
New mobile norms regarding excessive radiation from cell phone handsets and towers will be effective from September 1, which will slash the radio frequency (RF) limit to 1/10th of the existing levels.  It will also be compulsory for the manufacturers to display the specific absorption level (SAR) — the rate at which RF energy is absorbed by the body on the mobile handsets. A fine of Rs. 5 lakh per tower will be levied if the rules are violated. Full story here.
7. Celebrated fashion photographer Prabuddha Dasgupta dies at 58
Prabuddha Dasgupta, known as the 'finest' fashion photographer in India and famous for his black and white photography passed away during a shoot in Alibaug after he suffered a heart attack. He shot to fame after his Pierre Cardin ad campaign. His best known works include the controversial Book tittled ' Women' which is a collection of photographs of nude women and 'Ladhak', a personal expolaration of India's finest wilderness.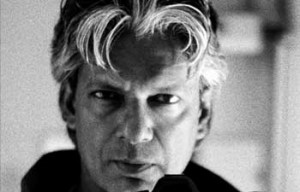 8. Cinematographer Ashok Mehta dies of lung cancer
Fondly called as 'Chachu' by everyone in the Hindi film industry, renowned cinematographer Ashok Mehta breathed his last after battling lung cancer for several years. He was 65. His life story resembled a Hindi film as he had started his career as a canteen boy and later graduated to a camera assistant and then finally became one of the most sought-after cinematographers of his time. His most famous works include Shekhar Kapur's 'Bandit Queen', Shyam Benegal's 'Mandi' and 'Trikaal', Aparna Sen's '36 Chowringhee Lane', Shashi Kapoor's 'Utsav', Subhash Ghai's 'Ram Lakhan', Khalnaayak and Kisna, M F Hussain's 'Gaja Gamini', among others. Full story here.
9. Assange gets asylum from Ecuador
Ecuador has granted political asylum to the WikiLeaks founder Julian Assange, much to the disappointment of the British government. Britain is of the opinion that it is 'obliged' to extradite Assange to Sweden, where he will be tried for rape and sexual assault. This decision is likely to sour the relationship between Britain and the Latin American nation and it has also led to a standoff in front of the Ecuador embassy in London, where Assange has been holed up for the last two months. Full story here.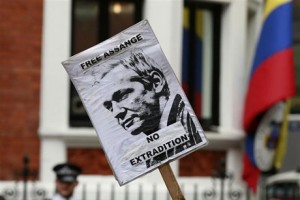 10.  VVS Laxman plans to retire after the New Zealand match
The veteran of 134 tests, 37 year old batsman, VVS Laxman is likely to announce his retirement from international cricket after the two-Test series against New Zealand starting August 23 in Hyderabad. Though no official confirmation has come from the BCCI or the Hyderabad Cricket Association, it is believed that Laxman will be calling quits on his 16-year international career in a day or two. He has a Test average of 45.97. Full story here.