On the very busy street of Linking road, the 'rasta' shopping paradise of many, stands the busiest stall of them all – Jay Sandwich. At the corner just outside R.D National College where the lane turns left from the main trunk road, nests this Mumbai sandwich joint. For a whopping 27 long years this place has been feeding college students and shoppers alike from 9 am to 9 pm day in and day out.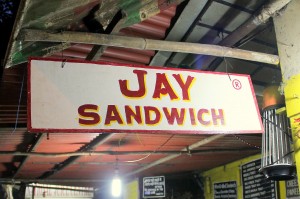 Known for the vast options it offers and the quality that it delivers, Jay sandwich is the preferred hangout spot for around 800people/day. The sandwich menu is long and made to suit each one's whims and fancies. Starting from the usual 'sada mumbai sandwich' which is priced at INR 25 and going on to the expensive and fancy item like the 'big grilled cheese sandwich', which is priced at  INR 95.  Old school bread crafts like jam toast, bread butter jam toast and bread butter chutney are also quick sellers. The introduction of a variety of sandwiches with paneer and cheese and pizza's surely favour the taste buds of the ones who like their meal large!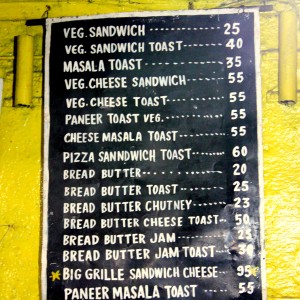 My treat this time was the king of the charts, the cheese masala toast. The very filling combination of potato mash with tomatoes, layers of cheese and toast bread sunk in Amul butter was surely the most relishing sandwich I have ever tasted. The spicy green chutney and sauce added to the necessary tanginess and all this when downed with a glass of orange Rasna made me happiest man in Bandra. For INR 55 my day was made and the craving of having an awesome sandwich was satiated.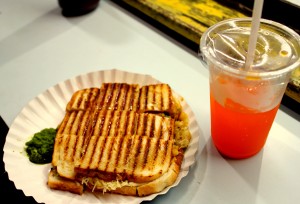 My feast!
"Bas students ka pyaar hai jo humein chalata hai," said the smiling owner of the bread empire. So the next time you are tired after a long bargain at Linking Road or get done with a taxing long lecture, you know the perfect place to re-energize. I very rightly claim Jay to be the 'Sandwich ka Sardar' for that scrumptious experience. Yahan ki Sandwich ki JAY!!!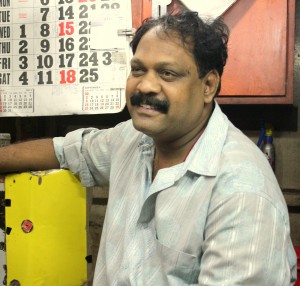 The man behind the stall.
Khaana Rating- 9.5/10